How to Find the Right Outdoor Business Signage?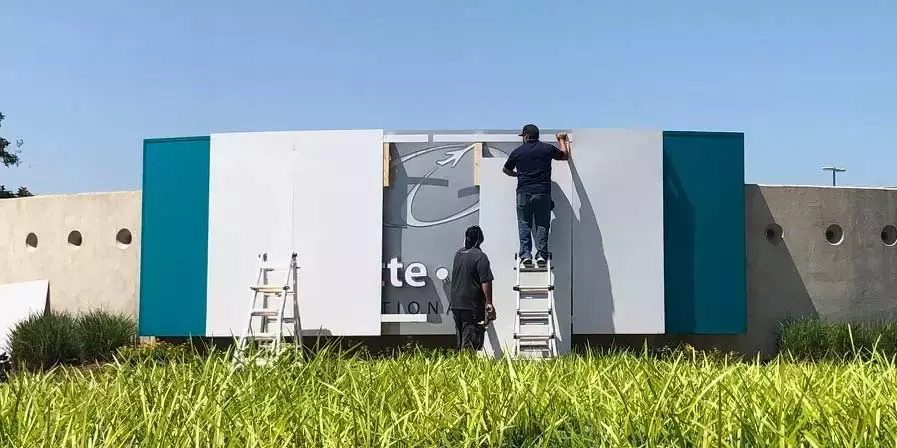 Outdoor business signs or exterior business signs are used to amplify your reach and branding. Whether you own a small business or a bigger one, appropriate business signs can add value to your business and help you to develop proper marketing strategies. Outdoor business signs advertise your brand more vibrantly as such signs are available in different types. You can go for storefront signs that help people find your location and let them know about deals and offers. Today, we will discuss the essential things you need to remember while choosing the best outdoor signs by Heritage Printing, Signs & Displays. Read on to know more-
Make Sure the Signage Matches Your Branding
This is the first thing you need to check out while placing an order for yours. When you are designing the of your make sure you use the same color of your brand and logo so that the sign can create an instant psychological effect on the customers, and they can connect to your brand easily. Besides these, you should be very careful while using colors such as red, yellow, orange, etc. are vibrating but eye-catching, while colors like blue and green are not that that much stimulating but eye-soothing. So, there must be a balance in choosing colors. Along with that, there must be 30 to 40% white space to avoid visual clutter.
Consider the size of the Text.
The next thing you want to check is the size of the font of the Text you are going to add to the outdoor signage. The Text on the outdoor sign should be short and crisp so that passersby can read it in one go. Types of information you want to include are mainly company name, tagline, logo, etc., which can communicate with the viewers instantly. Go for three to five words in line with supporting information below. Use mixed-case letters than using all caps as that makes reading the sign confusing.
Outdoor Signage's Advantages
● Outdoor signage has several advantages, one of which is generating a strong first impression. People will observe your exterior sign if they pass by your shop. What they observe on the signage will have a significant impact on whether or not they choose to investigate what your company has to provide. Put the money in outdoor advertising if you intend to generate a positive first effect on new and current consumers.
● The cost-effectiveness is the following advantage. Many individuals believe that signage is costly, yet it is actually one of the most cost-effective types of marketing and promotion. Many firms, on the other hand, continue to invest heavily in outdoor signs. You'll possess a decent chance of earning a solid profit on your expenditure if you buy outdoor signs.
● The third advantage is the variety of options accessible. As previously said, these signs are available in a variety of shapes and dimensions, which is great information for your company. It implies you can change up your signage on a regular basis to maintain things interesting. Prospective clients and those who walk by your organization on a regular basis may see your signs updating, resulting in more individuals becoming aware of your organization.
Outdoor signage might assist you in achieving specific objectives. If your purpose is to market a new item, for example, you can put up an outside sign promoting it. If your objective is to increase earnings, an innovative sign placed outdoors and within broad sight of the customers is effective to assist you to achieve that goal. The simple truth is that the correct signage may help you grow your business.
Outdoor Signs: What Are The Different Types?
Monument signs, car wraps, and pillar signage are just a few examples of outdoor signage. Signs for roofs, windows, and doorways are among the other signage alternatives. These are just a few instances of the types of outdoor signage that are accessible. This is because thinking regarding why you require a signpost before deciding on what style of outdoor signs to acquire is a smart option.
Check out the Location of the Outdoor Signs
If you want to make sure that your outdoor sign appeals the most to your customers and helps to build up a strong connection with your brand, you need to check out where you are placing the signage. Be sure that the signage is on the busiest areas of your location. The signage should also stand out among other types of signs on the basis of color, fonts, the language of the Text, shape, size, etc. Also, it should be free from any kind of obstruction, like shrubs, trees, lights, etc. Monitoring the location before installing the signage will be the best option for you. Make sure your signage gets maximum exposure. Knowing the location of the signage will help you in the right promotion of the brand.
Pick the Right Type of Outdoor Signage
Finally, this is one of the major things that you need to remember while looking for outdoor signage. There are different types of outdoor signage available to the best printing companies. Some of those are storefront signs, banners, posters, custom signs, pylon signs, and so on. Now, what you need to do is to pick the right type of signage. For example, if you want to display your messages at eye level, you can go for monument signs or pylon signs. These freestanding signs are almost 6 feet tall and come with a compact design. You can also go for awnings and customize those as they get more attention from the customers at the entrance. These are classing and welcoming.
Hopefully, now you know the important things to remember when you are looking for the appropriate for your Visiting the websites of the best printing company can solve your issues and provide you with the best guidance on this matter.
Do you want hassle-free Sign Installation by Heritage Printing, Signs & Displays in Charlotte, NC, and buying experience of outdoor signs? Then, contacting Heritage Printing, Signs, and Display is the best idea. Call us when you are in need of business signs.
About Author